Her plays have been featured in New Jersey and Pennsylvania theaters. Her short stories, including six first-prize winners, have appeared in various print and online literary journals.

Her published work includes a mystery, CRIMSON ICE, and a collection of short works, FATEFUL ENCOUNTERS, COLLECTED STORIES & PLAYS.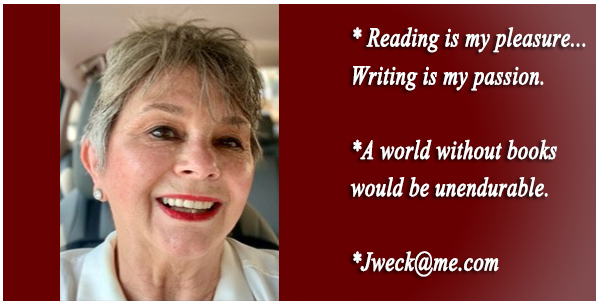 ABOUT THE AUTHOR
Joanne Weck novelist, playwright, and short story author is inspired by family history. Many of her tales are set in rural northeastern Pennsylvania where she grew up. Her mother, a natural storyteller instilled in her a love of poetry, drama, and biblical stories.

With degrees in English and Theater (University of Pittsburgh) she also draws on experiences as an actress, director, and teacher. One of her favorite creative projects was mentoring YAWT (Young Artists' Workshop Theater) for teen writers and actors. 
Photo by Elisa Chalem
When she was a teacher, most recently at Union Township High School in New Jersey, Weck also wore many hats, teaching creative writing, theater and television production, in addition to sponsoring a Young Artists' Workshop play festival.

Since her retirement, she's devoted herself to writing. Her first novel, Crimson Ice, was inspired by a challenge – when she complained about how formulaic mystery novels could be, her sister dared her to write one. That's exactly what Weck did.

"I've had so many students who have written to me and said, 'Oh, I've ordered your book! Can't wait to read it,'" she said.
Reviews & Comments
"A STORY THAT WILL CHILL YOU IN MID SUMMER"
Two days before Christmas, Frankie gets a frantic phone call from her brother-in -law Gordon,
saying that Rocky, Frankie's sister is missing. Frankie isn't convinced that Gordon's story is on the up and up. Plenty
of times before, Rockyhas shown up on Frankie's doorstep with her kids in tow after another bloody fight
between the volatile couple. Gordon admits to a fight but assures her that Rocky left with
nothing but a cut. Frankie is not convinced. Rocky would never leave her kids behind. 

CRIMSON ICE--This novel has surprising character depth and a plot, that if convoluted, keeps moving in non-stop action."

E.J. RAND, AUTHOR, SAY GOODBYE, DEADLY INK PRESS

By Ed Rand
Say Goodbye

Higher Calling

Dark Sea
"CRIMSON ICE draws a chilling picture of the deadly potential outcome of domestic abuse.  The main character is fueled by her guilt over not being able to end the abuse as well as her desire to make the abuser pay for what he's done."

DR. TAMI BRADY, TMC REVIEWS

CRIMSON ICE---The suspense is gripping as the excellent plot moves swiftly, guided by the real life characters living through a Pocono winter. I couldn't put the book down. What a movie it would make! 

Lisbeth Malkin, ACSW

...."hands down one of the best suspense novels I have read.  I could feel the cold mountain snow of the Poconos....absolutely wonderful!  Please let CRIMSON ICE have a sequel! LIGHTHOUSE LITERARY REVIEWS

"A mystery with an excellent plot that both surprises and delights.  The characters of CRIMSON ICE have psychological depth.  The author knows how to create compelling emotional characters that are remarkably realistic in their reactions."

EITAN ADLER, LITERARY MAGIC REVIEWS

From the first page, "Crimson Ice" drew me into this tense family crisis, as we learn of a disappearance, then a murder, then money missing. How far will a sister go to solve a sister's murder? Too far, it seems, and too hastily -- but maybe she's right. These characters are deep, and maybe you won't guess which one of them is to blame, but there's no telling. . . and you'll enjoy the ride. 

Joanne Weck has a gift for creating adults who haven't come out of a mold, and the children sound like real kids, not plot packages to be put in situations. 

Salter, coauthor of "The 101 Most Influential People who Never Lived.

Lazar, Karlan, and Salter

http://www.harpercollins.com/9780061132216/the-101-most-influential-people-who-never-lived

Pocono Chills!

When Frankie's sister Rocky goes missing, then turns up murdered, the logical suspect is Rocky's abusive, alcoholic husband Gordon. But as Frankie sets out to prove his guilt, she uncovers a complex web of deception linking their friends and family to a very nasty underworld. Good thing she has enlisted the help of a mysterious P.I. who's also willing to do whatever it takes to bring Rocky's killer to justice. CRIMSON ICE has plenty of heart, and also more twists and turns than the most treacherous ski slope! 

E. F. Watkins, author of DANU'S CHILDREN

by E. F. Watkins

http://www.efwatkins.com/ 
http://www.amberquill.com/store/Search.aspx?SearchTerms=EF%20Watkins

Hex, Death and Rock and Roll

http://www.amberquill.com/store/p/1867-Hex-Death-Rock-N-Roll.aspx

Dark Music

http://www.amberquill.com/store/p/1660-Dark-Music.aspx

Black Flowers

http://www.amberquill.com/store/p/30-Black-Flowers.aspx