Her plays have been featured in New Jersey and Pennsylvania theaters. Her short stories, including six first-prize winners, have appeared in various print and online literary journals.

Her published work includes a mystery, CRIMSON ICE, and a collection of short works, FATEFUL ENCOUNTERS, COLLECTED STORIES & PLAYS.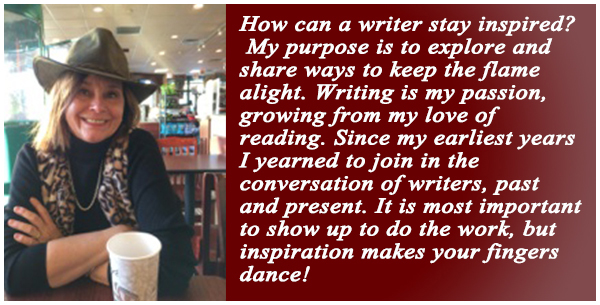 ABOUT THE AUTHOR
Joanne Weck novelist, playwright, and short story author is inspired by family history. Many of her tales are set in rural northeastern Pennsylvania where she grew up. Her mother, a natural storyteller instilled in her a love of poetry, drama, and biblical stories.

With degrees in English and Theater (University of Pittsburgh) she also draws on experiences as an actress, director, and teacher. One of her favorite creative projects was mentoring YAWT (Young Artists' Workshop Theater) for teen writers and actors. 
Photo by Elisa Chalem
When she was a teacher, most recently at Union Township High School in New Jersey, Weck also wore many hats, teaching creative writing, theater and television production, in addition to sponsoring a Young Artists' Workshop play festival.

Since her retirement, she's devoted herself to writing. Her first novel, Crimson Ice, was inspired by a challenge – when she complained about how formulaic mystery novels could be, her sister dared her to write one. That's exactly what Weck did.

"I've had so many students who have written to me and said, 'Oh, I've ordered your book! Can't wait to read it,'" she said.
FATEFUL ENCOUNTERS REVIEWS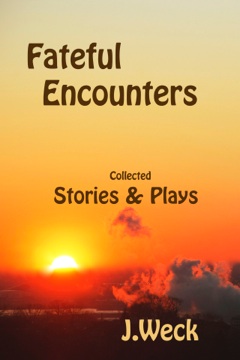 E. J. Rand, five-time award winning author, Blindsided and Honey Trap reviewed Fateful Encounters: Collected Stories & Plays

FATEFUL ENCOUNTERS is a joy to read

From a cruel twist that slams into newlyweds to a revelation that stuns a young woman returning home, J. Weck captures the tugs and grit of family. All manner of family. The elegant flow of moments, richness of detail, and clarity of characters make diving into FATEFUL ENCOUNTERS a joy.

E. J. Rand
Author, Reluctant Sleuth series (Deadly Ink Press),
and honored in five award contests
J. Salter reviewed Fateful Encounters: Collected Stories & Plays
These stories have characters I'll remember for a long time: the suspicious people of "Hitchhiker," the desperate teen of "Waif," the fearful child and well-meaning parents of "The Chinese Mommy." Situations anyone could encounter, others that make me glad to have to have the forewarning, puzzles of fate and decision for the reader to soak up. How many of these great tales will become feature films?
Donna Campos reviewed Fateful Encounters: Collected Stories & Plays Pathways Through Timeless Problems
Fateful Encounters: Collected Stories and Plays transported me to other times and places in the company of characters who faced their problems with grit and intelligence. The author has created a fictional world so real and filled with people deserving compassion and others worth hating yet portrayed with understanding. I rooted for the bright six year old who had her first encounter with prejudice and fought back.
Susan Mosh reviewed Fateful Encounters: Collected Stories

A great read. Wonderful stories, with characters that seemed as real as people I know. It kept me entranced from beginning to end. I especially loved 'The Chinese Mommy,' but I enjoyed every story in the book. Can't wait to get my hands on more stories from this author.
J. Matz reviewed Fateful Encounters: Collected Stories & Plays I loved the collection

I loved the collection, especially the short stories. I felt transported back in time in a very real way. Many of the stories are set in a time and place not so different the world my parents grew up in. I never have felt connected to the reality of that generation's world. I would recommend this book to anyone that appreciates serious, well-crafted fiction.
Marcia l Pollack reviewed Fateful Encounters: Collected Stories & Plays
Fateful Encounters
Indeed a potpourri of intriguing characters whose lives take strange twists and turns in the mode of O. Henry. Be prepared for surprises. A good read anytime and anywhere.
Mary L Langer Thompson reviewed Fateful Encounters: Collected Stories & Plays Secrets Fester
I like the idea of short stories and plays together in one book. The themes in these realistic short pieces are misunderstandings, lies, sibling and family secrets and tragedies and how people deal with them. The first story, "The Hitchhiker" is full of tension and mystery and has a twist. It will make the reader want to read more. As an educator, I would love to see "A Bracelet of Glass Beads" anthologized.
Maureen McGuire reviewed Fateful Encounters: Collected Stories & Plays
Is it Fiction or could it happen to you?

It is trite but true that this is a page turner. Weck weaves her tales and draws us into the concerns of people and the drama of families. The characters are believable and whether you like a character or not-you can't wait for the resolution of their story. Because of her in depth character development, I feel that I am reading nonfiction. My favorite is the Chinese Mommy.
Maureen McGuire