Her plays have been featured in New Jersey and Pennsylvania theaters. Her short stories, including six first-prize winners, have appeared in various print and online literary journals.

Her published work includes a mystery, CRIMSON ICE, and a collection of short works, FATEFUL ENCOUNTERS, COLLECTED STORIES & PLAYS.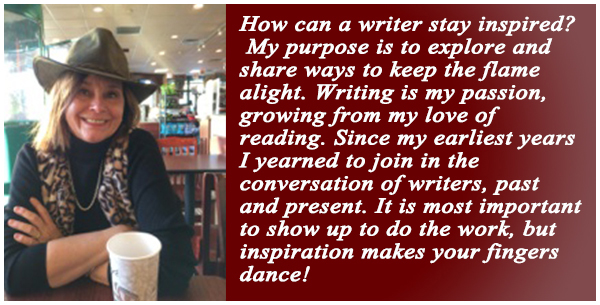 ABOUT THE AUTHOR
Joanne Weck novelist, playwright, and short story author is inspired by family history. Many of her tales are set in rural northeastern Pennsylvania where she grew up. Her mother, a natural storyteller instilled in her a love of poetry, drama, and biblical stories.

With degrees in English and Theater (University of Pittsburgh) she also draws on experiences as an actress, director, and teacher. One of her favorite creative projects was mentoring YAWT (Young Artists' Workshop Theater) for teen writers and actors. 
Photo by Elisa Chalem
When she was a teacher, most recently at Union Township High School in New Jersey, Weck also wore many hats, teaching creative writing, theater and television production, in addition to sponsoring a Young Artists' Workshop play festival.

Since her retirement, she's devoted herself to writing. Her first novel, Crimson Ice, was inspired by a challenge – when she complained about how formulaic mystery novels could be, her sister dared her to write one. That's exactly what Weck did.

"I've had so many students who have written to me and said, 'Oh, I've ordered your book! Can't wait to read it,'" she said.
BONE MOON REVIEWS
Debra Fein
Relatable Characters
August 9, 2019
Format: Kindle Edition

Bone Moon is an excellent Cozy Mystery. As a reader, I'm drawn right in from chapter one. In the very first sentence, we meet Frankie, a mother of one, who is also responsible for her niece and nephew. She is in charge of getting all three children to day care, and is also late for a meeting as stage manager at a theatre, Shawnee Playhouse in the Poconos. The idea of being a mom and also being late, appealed to me as a reader, and it made Frankie likeable and relatable. Ms. Weck also provides some beautiful descriptions leading up to the action in the book.
Tension is found when Lourdes opens the door and seems troubled. Shortly after, her nephew, Paco flees the scene with blood on his shirt. We soon learn that Paco's girlfriend's parents were found dead in their home. Paco had worked for the family, and subsequently been fired because of late night visits to his girlfriend, Madi's bedroom. Frankie tries to assure Lourdes that the police will have to prove Paco's involvement. A detective will be contacted who Frankie knows personally. All this makes for a tension filled setup to the book.
I am a fan of Ms. Weck's other works. She is spare in style, but knows how to convey everything the reader needs to know as they read through the book. I highly recommend Bone Moon, as well as her other books including Crimson Ice.
Nina Deutsch
Another lovable female sleuth is born!
August 10, 2019
Format: Paperback Verified Purchase

Watch out Kinsey Millhone and Precious Ramotswe! J. Weck has introduced us to a new and captivating female sleuth, in what I hope will be the first in a series of thrilling exploits with the charming Frankie Lupino at the helm.

E. J. Rand, five-time award winning author, Blindsided and Honey Trap.
Liza
Frankie Lupino--My kind of heroine!
July 20, 2019
Format: Paperback

I love a good mystery with a strong independent woman. Frankie's a single mother with a young son. She cares for the children of her murdered sister also. In Bone Moon she tries to help her friend's young nephew, a poor Hispanic college student who is blamed for the murder of his girlfriend's parents, prove he is innocent. She takes risks and gets into trouble. As she does, the tension mounts. There are plenty of twists as Frankie and her partner, a private detective, get closer to the truth. The mystery Bone Moon is easy to enjoy. The characters seem like real people, especially the children. The setting in the mountains feels real, too.
H. Ackerman
The Right Qualities
August 9, 2019
Format: Paperback

In Bone Moon, Joanne Weck gives us an engaging and inquisitive woman, Frankie Lupino, whose friend and babysitter involves her in a case of double murder. Many readers will identify with Frankie as a busy professional who must manage her commitments to her own child, to her sister's children now in her custody, to her job as stage director for a Pocono area theatre, and to her partner and lover, "Sarv."
Frankie is an amateur crime-solver, but her work with a troupe that has begun performing a murder mystery, Sarv's background as a NYPD detective, and her own sister's recent death put her in a special position to notice how people are reacting to the killing of this wealthy Stroudsburg-area couple and to ask questions which go beyond suspicions and appearances. She is a quick learner and, as she herself notes, she has an "intuitive mind."
Add to that, Frankie possesses a confidence growing out of her relationship with Sarv as well as certain pluck. She needs these qualities as one character or another tries to bully her into backing off from helping discover who might have motive to kill the couple--and who actually did.
Latching on to the reader right from the start, the story unfolds through dialogue and narration, but also a very great deal through Frankie's inner dialogue, her own doubts and alarms and amazements, as she approaches the truth. You will have no trouble being drawn into the story, and you'll want to stay until the proof is in.
Family love problems and dilemmas and bitterness
August 1, 2019
Format: Paperback Verified Purchase

The author's description of family love is very realistic and the hatred between the brothers caused by sexual infidelity by the wife is very disturbing. This very thoughtful book has a moral undercurrent that family life should teach people how to love others but it does not in this family.

Barbara L. Alterman
Compelling Read
July 19, 2019
Format: Paperback

You can almost smell the pine trees in the country setting of J. Weck's Bone Moon: A Pocono Mountain Mystery. Weck's protagonist, Frankie Lupino, is a responsible, empathetic working mother—she shares custody of her young niece and nephew.  It's fortunate her live-in boyfriend is an ex-NYC cop when her children's caregiver comes to her, terrified: the local police suspect her nephew in a double murder. Despite Frankie's conflicting relationship with the local detective in charge of the homicide investigation, she feels she must help her friend. Step-by-step, using smarts and women's intuition, she worms her way into the real motivations of the family and friends who were part of the murdered couple's life.

Tracking the risks Frankie takes, wading through those vividly-crafted characters, is as fascinating as the danger she walks into is frightening. I felt I lived with her day-by-day, delighted by each clue she uncovered, each decision she made—many of which piss off both her man and the detective-in-charge. Kudos, J. Weck
E. J. Rand
Award winning author of
Honey Trap and Blindsided